Last month, 3,500 healthcare workers at public hospitals and clinics across Alameda County voted overwhelmingly to begin a five-day strike on Oct. 7. A year earlier, another group of essential public workers — the transit workers at Amalgamated Transit Union 192 — took their own strike vote, and a large majority authorized a strike against AC Transit. After months of difficult contract negotiations, ATU 192's membership narrowly approved a contract in May.
ATU 192's members operate and maintain the buses on routes up and down the East Bay. The members of the union are majority-Black, and they serve riders who are largely low-income people of color.
The union has been fighting for measures to make transit safe for workers and their riders during the COVID-19 pandemic, and recently won a commitment by AC Transit to make free masks and hand sanitizer available for riders on every bus. They are also fighting to prevent massive layoffs and service cuts of up to 30%. And they have been fighting to oppose Proposition 22 on the November ballot, a referendum by Uber and Lyft that aims to repeal a California law requiring them and other companies to treat their app-based workers as employees, rather than independent contractors.
Majority spoke with several members and leaders of ATU 192 about the common struggles they share with public healthcare workers, the shared needs of essential workers and the people they serve, and the importance of standing in solidarity with striking Alameda Health System (AHS) workers.
Answers have been edited for the sake of brevity and clarity.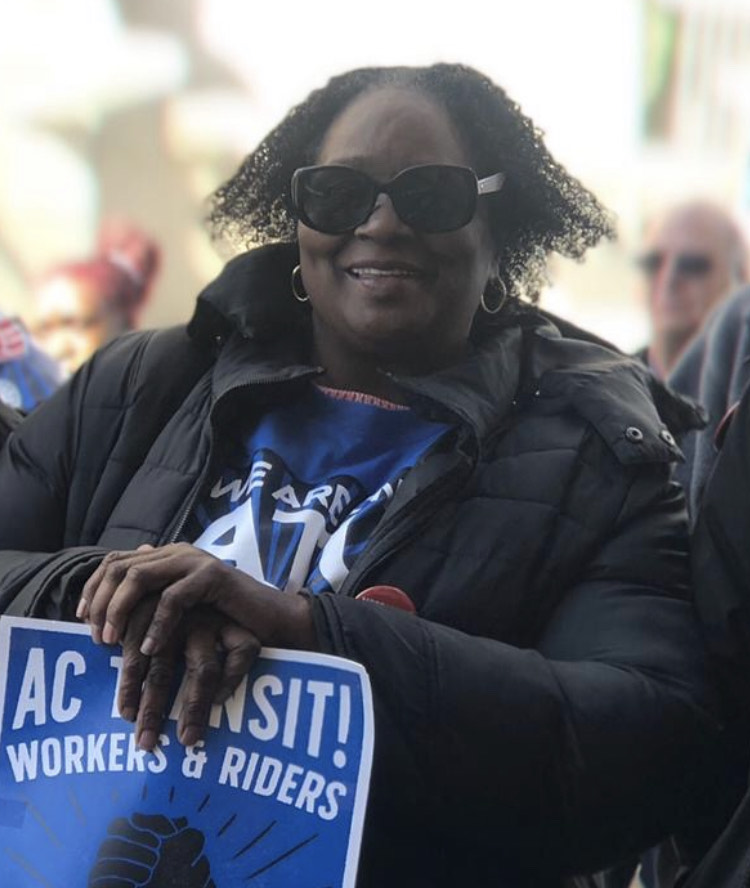 Joyce Willis has been a bus operator at AC Transit for 29 years. She is the elected Financial Secretary-Treasurer of ATU 192, and serves as the Secretary-Treasurer of the ATU California Conference Board.
JW: Our members are under stress right now. Even though they are essential workers, they feel they're underappreciated — even though they're working to serve the public, workers, and low-income workers, the elderly, the sick, and the poor. So they feel that their jobs are just as important [as healthcare workers], because people still need to get to work, people still need to get to their doctor's appointments and other things in life — grocery shopping and things they have to take care [of]. And they depend on our members to do that.
It's scary for them [ATU members]. A lot of them are driving in fear. They know that they can die, they know they can take [COVID-19] home to their family members. A lot of our members take care of elderly parents. Just an example, I have two people in my household whose immune systems are suppressed. So our members are afraid. They don't know what's gonna happen if they get sick. How would you like to know that if you get sick, you have the potential to kill your family members.
The union is there fighting hard to make sure that members get the protective gear that they need, and that they have the social distancing and the other things to keep themselves and their family members safe. That has been a big fight. So far, we've been doing pretty good with that fight and keeping the pressure on.
Majority: Why is ATU making it a priority to oppose Prop. 22, the Uber and Lyft referendum?
JW: First, the most important reason is that when all the fees and insurance is taken out, Uber drivers are only getting about $5.79 an hour, with no protections, no benefits. So we would like to see those workers get what they deserve. And second, the private companies are moving into transit. We have our certification, our license, and we have a passenger endorsement which means we passed a test in order to carry passengers. And these people [Lyft and Uber drivers] are out there carrying passengers with no protection. The public has no protection, they just jump into the car, and don't know the skill these drivers have. So it's protecting our jobs, and protecting the public, and helping out the people that are doing this work. They're working for Uber and Lyft and they're not being paid the way they should be paid."
They [the healthcare workers] are fighting for protections, we were fighting for protections. We were fighting for things in our contract that they [management] weren't willing to bend on… I know a lot of people in the medical field and I know that they are under stress right now, and that they don't have supplies that they need. So, if they're walking out the door, they're doing it because they care about the people that they serve. They are trying to help the people that serve more than they are trying to help themselves… It's not to hurt the people they serve, it's to get whoever's in charge to make moves to address their needs.
Nathaniel Arnold has been a bus operator at AC Transit and a member of ATU 192 for 12 years. A former Recording Secretary and Shop Steward, he currently serves as Safety Chair for the local.
NA: The only weapon we have as workers is the strike. Look at the Oakland teachers, who went on strike so their students can have the education they deserve. Look at our strike vote at ATU, where we were fighting for our members and our riders. And now look at the healthcare workers who are striking for better patient care. In all three instances we have to hold our labor hostage. Because it costs the bosses money. And that's the only thing that gets their attention. So that's the thread that's in common, whether it's teachers, bus operators, or nurses. The bottom line is that we want to have peace. But peace does not come without struggle, and without struggle, change does not come.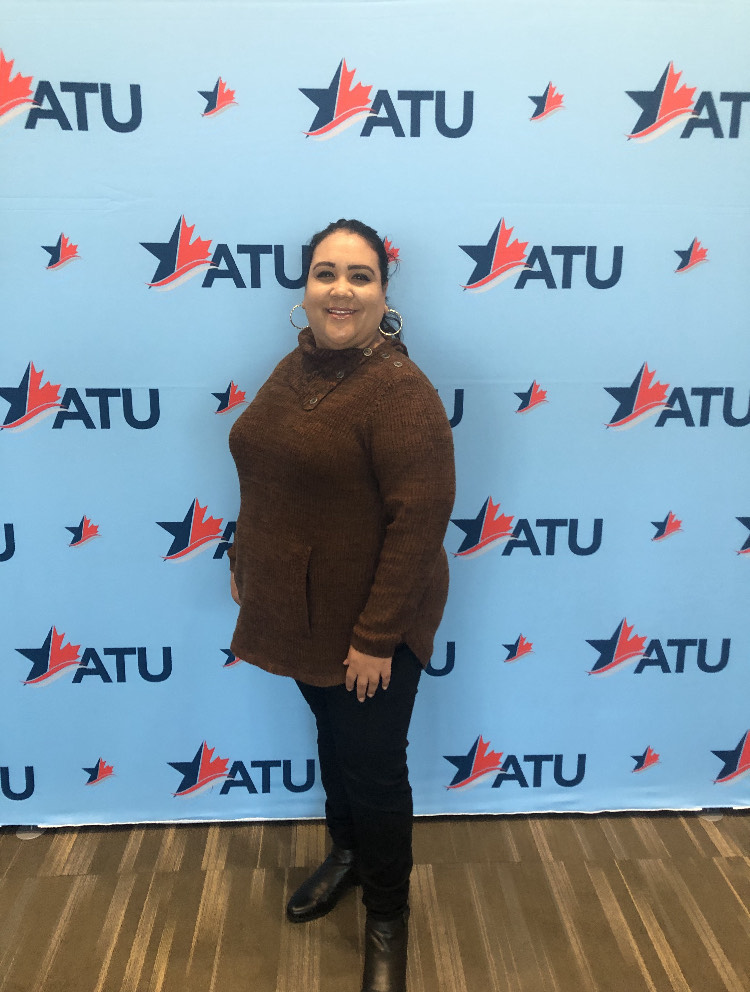 Josette Moss is the elected Recording Secretary of ATU 192, and is a senior administrative clerk at AC Transit, where she has worked for nearly 18 years.
JM: A year ago, I supported authorizing [a strike of ATU 192 workers]. The bottom line is, it's never about money… The big picture was about worker protections, things that could help the employee, like de-escalation classes, trainings, proper PPE. They don't want to talk about that. But that's what it's all about.
The healthcare workers' strike relates to the demands that transit workers are making. It is about PPE, people going to work need the tools they need so they're not bringing the virus home to their families… The nurses are the ones dealing with the sick patients who come to the hospital. A revolving door that is dealing with sick patients over and over again. They're on the front line just like transportation workers.
I remember the Oakland teachers strike. The support of the community and the students, that was very important… The community, everybody, has to be on the same page. You have to educate everybody, organize everybody. When you educate the community on the issues you face, the community will be there supporting you and not crossing the picket lines. That's why it is strength in numbers! And the same goes for other unions, because at the end of the day, they all need to work together.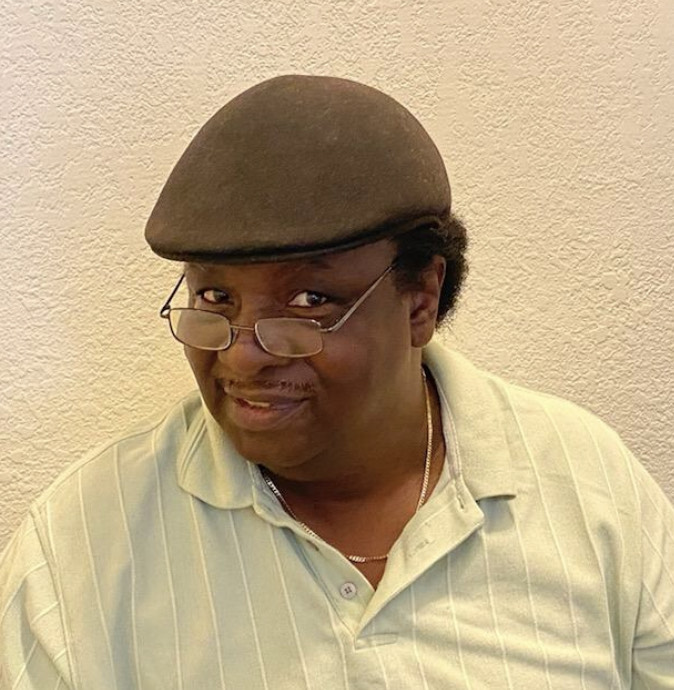 Marcus Walker has been a bus operator at AC Transit and a member of ATU 192 since 1981. His daily route takes him to Highland Hospital, among other destinations.
MW: They [the bosses] try to stretch every second of productivity that they can get out of us. You know, we're operating machines, but we're not machines. We are humans and you have to take that into consideration. And I'm sure that is also the case with medical workers, they're probably trying to work with a skeleton crew.
When [ATU Local 192 bus operators] drive by the hospitals and medical facilities and see the workers striking there, that should shake them up and let them become aware that this is a real issue and it needs to be addressed by not only their union, but all unions in the Bay Area.
Majority: Would you see yourself showing solidarity on a picket line during the strike?
MW: Absolutely. The more unions that participate, the better it shows solidarity with those that are on strike. And, you know, what goes around comes around. If we participate, if we ever need assistance like that, then they can point to us and say, "Local 192 was there for us in our time of need, and we need to reciprocate."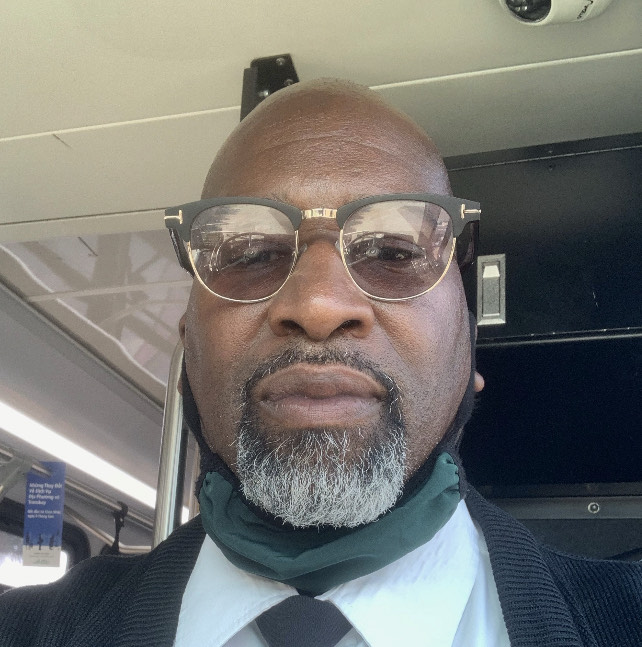 Patrick Kato has been a bus operator at AC Transit and a member of ATU 192 for 30 years, and will soon take on the role of shop steward in AC Transit's Division 3 in Richmond.
I have always been an advocate for the general public. Being an essential worker, I am now finally chiming in on the political aspect of my responsibilities. I'm a humanitarian, I am an advocate for the [general public], so I get the effect of going to these facilities like convalescent homes, etc. where they are not being funded correctly. I'm on the side where I hear it from the individuals that have parents or uncles and aunties and friends in these facilities that are not being funded properly. That's what I hear on the bus. As a matter of fact, my mother worked for 40 years at a convalescent home in the San Leandro-Hayward-Fremont-Union City area…
These people that work [in healthcare facilities], I commend them. They need to be accommodated. It's unfortunate that they have to contend with the financial responsibility of these facilities not being financed properly. It's probably hard for them to concentrate on their responsibilities in dealing with the patient, it's probably tough. Just like us, not being paid what we deserve.
Every last one of our riders are essential workers like health care workers; and keep in mind that the ridership also consists of individuals experiencing homelessness. And they just want to get out of that environment. They want to feel safe. My mindset is just like that of a nurse. It's like these facilities, these clinics, some of these nursing homes, some of these hospitals. I have to take on the responsibility of caring for the people that board this coach.
Read our interviews with AHS workers and patients here.